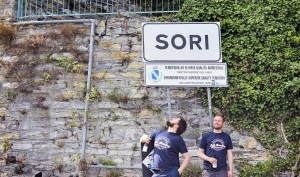 We were traveling in Italy for our upcoming barrel room wine barrels and visited our friends in Birrificio Del Ducato (also brewed a collaboration beer!) and Toccalmatto. Our trip to Italy got us inspired and we wanted to brew sunny Italian Riviera into one beer. Did you know that there's a town Sori in Italian Riviera, just next to Genova?
In the 16th century, the statue of the Madonna was stolen by pirates. During fights, they threw it into the sea and the statue disappeared. The statue was found again from Sori beach around 50 years later, unharmed. During WWII, the town of Sori was bombarded and the statue ended up in the sea. 11 years later the statue found back to the beach of Sori, again unharmed.
What was the result then?
Limoncello inspired single hop Mosaic Session IPA with lemon peel. 5.3% ABV and 50 IBU. Loads of Summer in this beer. Strong tropical fruits in the aroma, crispy citrus taste and lingering aftertaste.
Availability
Now available in Alko monopoly in Finland (through Diamond Beverages).
Importers can contact us sales@soribrewing.com.