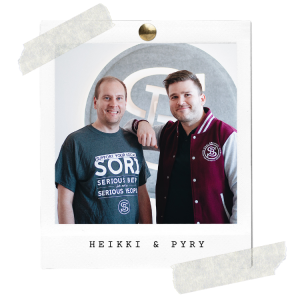 How it started
The founders of Sori Brewing, who were part of the Boomi Beer Society (BOSA) during their university days, teamed up with a local gastropub owner to learn about the world of beer. However, they wanted to make a statement and knew that starting a brewery was not enough. In 2013, inflexible Finnish alcohol legislation forced them to relocate to Estonia to brew innovative craft beers. The move attracted significant media attention and political notice, and we continue to push boundaries and impact Finnish alcohol policy today.
Sori Brewing started as a contract brewery at Teerenpeli and Ruosniemen Panimo. With the support of Finnish shareholders, they raised 923 200 euros in 2014-2015 and bought a 15hl Velo brewhouse from Teerenpeli. The team then set up the brewery on the 3rd floor of an old Soviet-era factory complex in Tallinn, Estonia, an unconventional location. The story of how they found and transformed the space involves cruise missiles and trains gone missing, and it's a tale they love to share with visitors.
People behind Sori
Co-founder Heikki Uotila used to market women's' shoes and flirt with bloggers for one of the Europe's biggest online retailer. Heikki was the one igniting the idea of having a brewery, but it took two to make it to reality. He was probably good in marketing ladies shoes and all, now he is the man behind the beers and production planning.
The other half, Pyry Hurula, used to work in a big energy company portfolio management, making sure metropolitan Helsinki area was all lit and heated. He has always been a part-time marketing entrepreneur as well. In Sori, he's the creative and strategic head. He's also the one behind all the graphics. Pyry's phone is integrated to his hand and he's devoted to connecting with our fans through social media.
In the early beginning there were three of us pitching the idea, but our lab talent decided to continue his path as an employee at another brewery. Our couple of hundred shareholders however have been often there for us as helping hands and giving ideas. Even today you might meet our shareholders pouring beer at Finnish festivals.
Now, Sori Brewing has grown to a real brewery with talented brewers and people behind the scenes working every day to push limits and create new. Steadily we grow our family and make this crazy story even bigger. We applaude to our great team today. Head brewer Timeon is a dynamic duo with our local talent Katrin – and they would be in trouble without the quality manager Kadri. Meeri-Lii manages our office and keeps our webshop running smoothly. In Finland we have our dynamic sales and marketing duo Tuija & Jari.
What does Sori mean?
Sori is where this all began, a small block in Tampere, Finland, where we learned homebrewing with our academic beer society. Sori also represents what we are: it's an apology since we Finns always apologize to show our humble nature. So, we are Sori.
Visiting Sori
Sori Brewing is located in an old Soviet-era factory in the middle of former restricted Dvigatel factory complex. That history is still very strongly present here, even though everything has moved on. One of our things is to be close to people, so it's easy to reach us. We are just next to Tallinn city center, so book a visit and see how it's made. [More info]