We can't get enough of collaborating, so we decided to make another ancient beer with Ruosniemi Brewery! Since both breweries have Finnish roots, we decided to pay a tribute to ancient Finnish beer style, Sahti. Actually, there's a traditional method how Sahti is supposed to be made, so we followed this ideology. Traditional Sahti uses variety of grains and often includes much rye. Also, it's very common that juniper is used when filtering the wort, which leaves a nice hint of spiciness. Hops are used very lightly or none at all.
This Sahti is matured in oak and not just any oak, but the famous Scotch whiskey distiller Laphroaig© Quarter Cask oak. This gives our Sahti a bit more depth and balances the overly banana aromas that come from the traditional Finnish baking yeast. Speaking of that baking yeast, it's a real beast! It ferments the Sahti in just a few days leaving behind 7 – 12 % alc. That's very aggressive.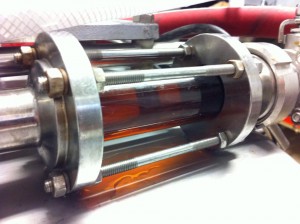 Our ancient beast is called Vientiassistentti Islay Sahti. Vientiassistentti is the name for our collaborations, which translates to Exports Assistant, since Ruosniemi has been there for us helping to get this exporting brewery get going. And as you probably figured out, this beer is also brewed in Ruosniemi.
This collaboration is available only for a limited time in Helsinki SOPP Craft Beer festival 24.-26.7. (@ Rautatientori Square) so be there, or get no beer.