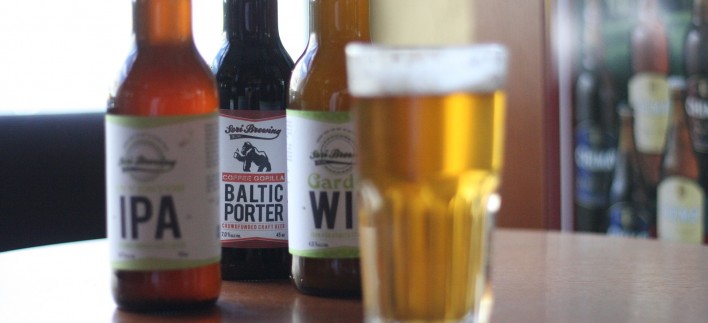 Sori Brewing – Deliveries in Finland 05-06/2015
Here are the restaurants that have so far ordered Sori Brewing beers. If they have ran out, ask them to order some more!
Note that this is not an availablity list. Some restaurants may put beers on tap later than others and some will run out, but it's always worth asking! One cool tool to check availabilities is Untappd.
Helsinki
Bier-Bier
Brewdog Bar
Kaisla
Kitty's
Olhus Helsinki
Olhus Kobenhavn
Olhus Oslo
Olhus Stockholm
Sir Eino
Sivukirjasto
Stones
William K Annankatu
Espoo
Davisto
Gallows Bird
William K Leppävaara
Vantaa
Tampere
Artturi
Gastropub Tuulensuu
Gastropub Nordic
Kievari Kahdet Kasvot
Konttori
Kultainen Apina
O'Connell's
O'Hara's Freehouse
Sitko
Joensuu
Jyväskylä
Kotka
Kuopio
Lahti
Mikkeli
Oulu
Porvoo
Tornio
Turku
Lappeenranta
Want to order Sori Brewing beers to your restaurant in Finland? We distribute through Diamond Beverages Oy, so you get our beers everywhere! Contact Restaurant Sales +358 (0)10 231 0801 or diamondbeer@diamondbeverages.fi. Market Retail Sales: +358 (0)10 231 0802.
Grocery stores of Finland
Helsinki, Espoo, Vantaa
K-Citymarket Ruoholahti
K-Citymarket Sello
K-Citymarket Vuosaari
K-Supermarket Hämeenkylä
K-Supermarket Kaisaniemi
K-Supermarket Kamppi
K-Supermarket Konala
K-Supermarket Lauttasaari
K-Supermarket Mankkaa
K-Supermarket Munkki
K-Supermarket Mustapekka
K-Supermarket Postitalo
K-Supermarket Ruokaniitty
K-Supermarket Seilori
K-Supermarket Torpparinmäki
Liike 51
Tampere, Kangasala
K-Citymarket Linnainmaa
K-Citymarket Lielahti
K-Supermarket Kangasala
Jyväskylä
K-Supermarket Länsiväylä
K-Citymarket Palokka
Porvoo
Lahti
Lohja
Porvoo
Turku
K-Citymarket Länsikeskus
K-Citymarket Kupittaa
K-Citymarket Ravattula
K-Extra Puhakka
Oulu
Lappeenranta
Pori
Rauma
Eura
Harjavalta
Jalasjärvi
Reporting for missing bar / beer / other!
Posted in: From Sori