Push limits
Brewing within style regulations is a great starting point and the classics always stay there. However, we are here to create new. We are experimenting and pushing the limits with classic brews. We do it in a way that shows respect to the original style. We brew with a Belgo-American mindset and source some inspiration from our Nordic heritage.
If we stayed brewing in Finland, we would feel like artists who are only given black and white. We want to be those guys that re-painted Mona Lisa and added her an ironic mustache.
Pure ingredients
We use pure water from our own well, quality Finnish malts and the finest of hops. Also, most* of our beers are vegan – which means we don't use any animal based finings. Many of our beers can be naturally low in gluten and for the beers we state that are gluten free, we always have a lab result to certify that.
* Excl. ShakOut IPAs that have milk sugar and Gracious that has honey
Work hard
We have a very humble approach on brewing – work hard, learn and get results. It has taken years to master these skills. The more we learn, the more we want to share our knowledge with everyone. We owe it to the beer loving society that has raised us to be the beer lovers we are now. We want to amaze fellow brewers with what we have done.
Get them near you
We already sell our beers in several countries. If you are a importer or distributor, you can contact us sales@soribrewing.com.
Collaborations
We are proud that we've been able to collaborate with many talented brewers to learn and brew more serious beer to people.
























Serious India Pale Ales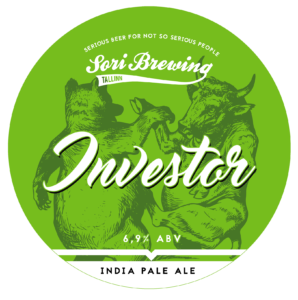 Investor IPA
West Coast IPA
6,9% ABV 70 IBU
Investor IPA is a huge part of our story. Sori Brewing is crowdfunded by craft beer enthusiastic investors who share our vision and feel the passion. This straightforward West Coast IPA was one of the first brews they got to taste. Now it's a praise for all the shareholders believing in this brewery and the idea behind it.
This beer is packed with Amarillo, Simcoe, Cascade and Magnum hops, giving it a strong tropical and citrus fruit aroma with a long, dry finish. Taste a part of our story and enjoy the hops!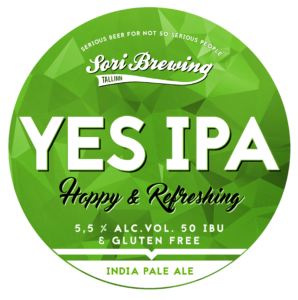 Yes IPA
Gluten-Free IPA
5,5% ABV 50 IBU
Gluten free IPA with all the taste. This refreshing IPA is hopped with Mosaic and Centennial. A lot of fresh pineapple, tangerine and floral notes.
Since our brewing process is flexible to make beer for our gluten intolerant friends, we wanted to make one that does not compromise in taste. This is it.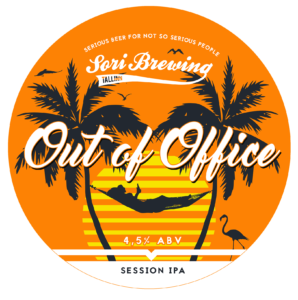 Out of Office
Session IPA
4,5% ABV 55 IBU
Working your tail off in a dead-end job and losing your passion? Put your 'Out of Office' mode on and leave your desk, for good. That's what we did. This hoppy and refreshing Session IPA is all about pursuing your dreams, even if it's just for a moment. This is a perfect beer for after office hours and of course for those moments where you need a beer with character, but less buzz.
This lightweight beast is hopped with Simcoe, Cascade and Centennial hops, packed with tropical fruit, grapefruit and hints of piney notes. Both this and Investor IPA are Sori's very first brews brewed from 2013.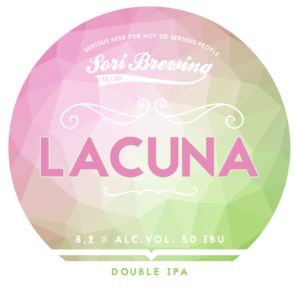 Lacuna
New England Double IPA
8,2% ABV 50 IBU
Lacuna means missing part – and New England style IPA was one missing part in our portfolio, so Lacuna was our first brew in that style.
Lacuna is a hazy Double IPA with 25g / liter of hops. Hopped with Vic Secret, Wakatu and Citra. Hazy, juicy and tropical. A lot of mango, passion and fresh hops in the taste. Massive aromas yet low bitterness.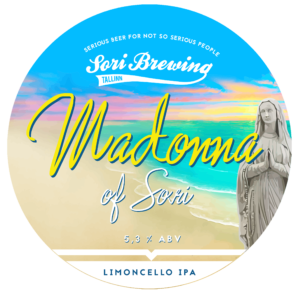 Madonna of Sori
Single Hop Session IPA
5,3% ABV 50 IBU
Limoncello inspired single hop Mosaic Session IPA with lemon peel. Inspired by Italian Riviera, where you can also find the town of Sori.
In the 16th century, the statue of the Madonna was stolen by pirates. During fights, they threw it into the sea and the statue disappeared. The statue was found again from Sori beach around 50 years later, unharmed. During WWII, the town of Sori was bombarded and the statue ended up in the sea. 11 years later the statue found back to the beach of Sori, again unharmed.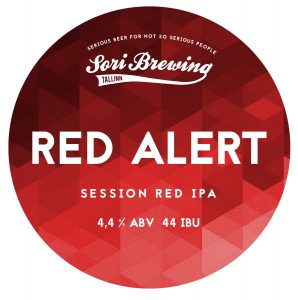 Red Alert
Session Red IPA
4,4% ABV 44 IBU
Time to push the big red and cease the moment. We wanted to brew something beautiful yet very hoppy and drinkable, like we enjoy our beers.
This very fruity, aromatically hopped Red Session IPA is everything you want from a red small beast like this. Packed with resinous fruitiness, delicate bitterness yet amazing balance.
Symphony of Hops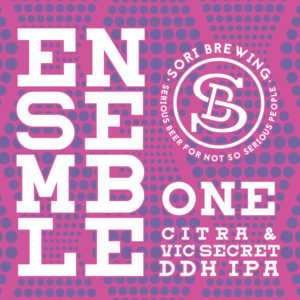 Ensemble One
New England IPA
7,0 % ABV
Ensemble One is loaded with tropical Citra and Vic Secret hops. A super juicy, hazy beer with vibrant pineapple and passion fruit aroma. A soft, velvety mouthfeel with rounded bitterness, brewed for you to enjoy this beer from the start to finish.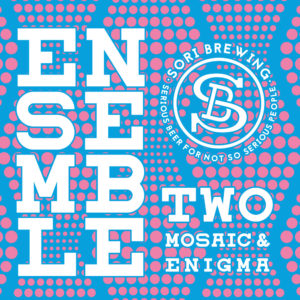 Ensemble Two
New England Double IPA
8,0 % ABV
Ensemble Two, the next piece of our symphony stars the cross-hemisphere duo of Mosaic and Enigma. Packed with a tropical fruit salad of aromas and juicy flavors. Finishing with a smooth and balanced bitterness. This DDH Double IPA is a beast!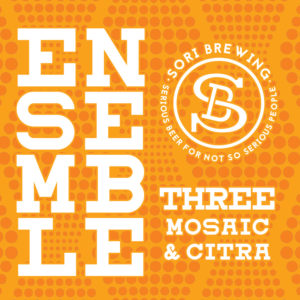 Ensemble Three
New England Double IPA
8,1 % ABV
Ensemble Three sees the return of Mosaic with a new partner, Citra. This classic American team-up delivers a punch of citrus and tropical fruit. Sit back and enjoy this DDH Double IPA as we prepare you for the next movement of our symphony.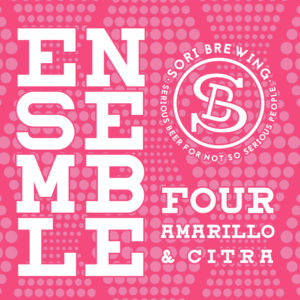 Ensemble Four
New England Double IPA
8,2 % ABV
Ensemble Four is packed with citrusy Amarillo & Citra hops.Serious double dry hopping guarantees bursting flavors of sweet orange, tangerine and fresh lemon, balanced with a smooth and oily mouthfeel with light bitterness.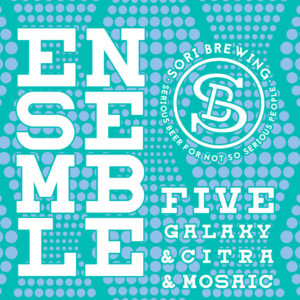 Ensemble Five
New England Double IPA
8,3 % ABV
In continuum to our Symphony of Hops series, Ensemble Five is the biggest and boldest DDH IPA we have done so far. Hopped massively with our favorite hops Citra, Mosaic and Galaxy, giving it a huge hoppy aroma, tropical juiciness and a smooth mouthfeel.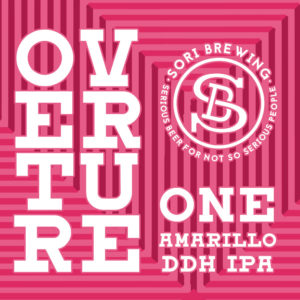 Overture One
New England IPA
6,8 % ABV
Bursting with the one and only Amarillo hop – a whopping total of 20 kg per 1000 liters! Our showcase of this delicate and super fruity American hop that keeps on giving. Expect a soft, juicy beer bursting with marmalade and orange sorbet aromas with a hint of smooth bitterness.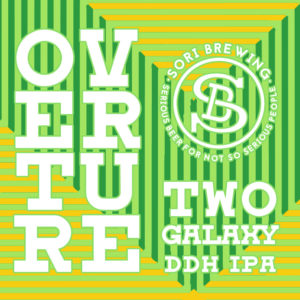 Overture Two
New England IPA
6,9 % ABV
Packed with almost 20 kg of Galaxy hops per 1000 liters. Intense clean and tropical flavor. Flavors of lime, pineapple and orange peel. Creamy and super drinkable with complex and profound hop character. A juicy and dank tropical bomb to enjoy!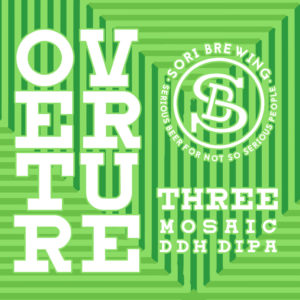 Overture Three
New England Double IPA
8,0 % ABV
Overture Three: Double Dry Hopped Double IPA, is the final score in the overture series, a standing ovation to the almighty Mosaic hop. A concerto of tangerine, papaya flavors, a symphony of floral aromas. Soft and creamy mouthfeel for a perfect finish as we lead into our next act.
League of Hops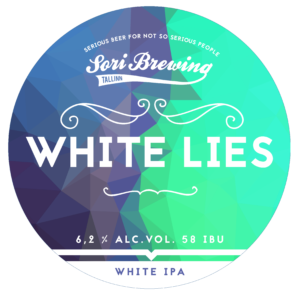 White Lies
White IPA
6,2 % ABV 58 IBU
Which one is it, a Belgian Witbier or an American India Pale Ale? White Lies is an unfiltered White IPA. Pale and hazy Wit & IPA hybrid with a round malt base and a spicy yeast character. Intensively tropical Equinox and Mosaic hops give this IPA a big punch of fruitiness.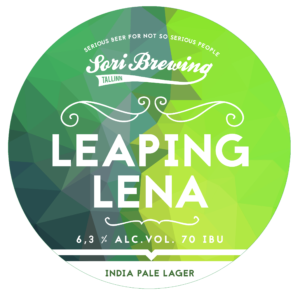 Leaping Lena
India Pale Lager
6,3% ABV 70 IBU
Leaping Lena was a West German racing pigeon who got lost in Czechoslovakia in 1954 and returned with a strong freedom manifesto signed by Unbowed Pilsen. Like Unbowed Pilsen, we appreciate freedom. A famous Bohemian lager yeast strain from Pilsen fermented this revolutionary IPL. Hopped fruity and flowery with Mosaic, Ahtanum and Simcoe.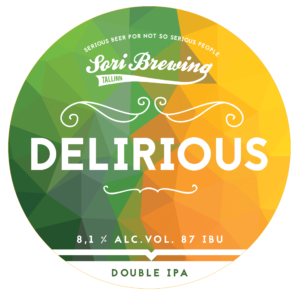 Delirious
Double IPA
8,1% ABV 87 IBU
Delirious means a wildly excited state of mind. Getting wildly excited, we added a massive amount of dry hops into this Imperial IPA. Seriously dry hopped with amazing hops like Citra, Mosaic and Simcoe. Like all great IPA's, this is best enjoyed fresh. A real, big American style Imperial IPA that makes your hop radar go wild.
Resinous
Double IPA
8,0 % ABV 74 IBU
Resin is that thick, golden substance that trees produce. Same as resin this Double IPA is thick and sweet, except it's loaded with amazing hops like Citra, Simcoe and Chinook. Expect an intensively piney, citrussy and fruity IPA with all those luscious and aromatic hop oils.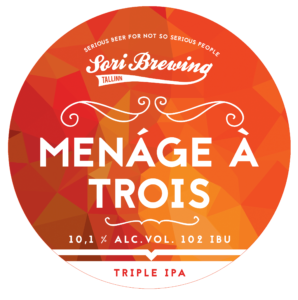 Menage à Trois
Triple IPA
9,2 % ABV 93 IBU
Ménage à Trois Triple IPA is a praise to polyamoric love for hoppy beers – you just need more to love! 3 hops: Motueka, Citra & Tomahawk. 3 malts: Pale, Cara Pale & Crystal 50. Not for the faint-hearted.

Sour Punch Series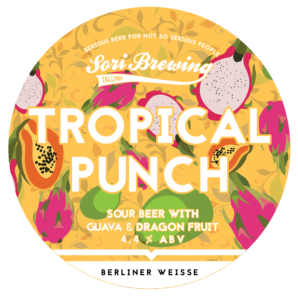 Tropical Punch
Berliner Weisse – 4,4% ABV
Are you ready for some sour tropical explosions? This sour and refreshing Berliner Weisse has massive quantities of Guava and Dragon Fruit. Maybe this is the daily doze of fruit doctor recommended?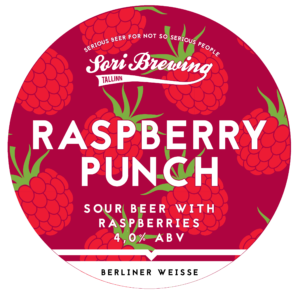 Raspberry Punch
Berliner Weisse – 4,0% ABV
Raspberry Punch is a wild and refreshing sour beer! This pungently tart, fuchsia red Berliner Weisse gets its bold character from a load of added raspberries and the souring lactic bacteria. The tartness gives a nice little punch in your face and tickles your tongue. Now that you know what hit you, you'll want more. Berliner Weisse Mit Schuss Himbeere.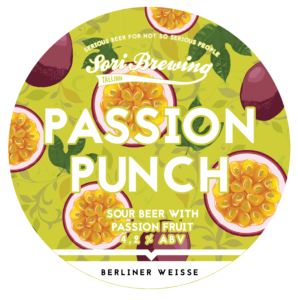 Passion Punch
Berliner Weisse – 4,2% ABV
Passion of the sour! Our tart, golden yellow Berliner Weisse gets its fruity and tropical character from a huge amount of passion fruit and lactic souring. Have a sip and feel the punch that puts a smile on your face. Serve cold and let the passion flow through you.
Dark Humor Club Series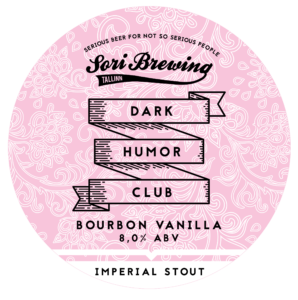 Dark Humor Club
Bourbon Vanilla
Imperial Stout – 8,0% ABV 50 IBU
Sweet, dessert-like Imperial Stout with loads of flavor. Cacao nibs and espresso make this a liquid mocha cake. We added over a hundred Bourbon vanilla pods to make it a delicious treat.
Dark Humor Club is fun, super dark and with every sip it reveals something new. Enjoy as a dessert and pair with chocolate.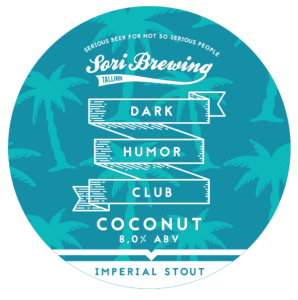 Dark Humor Club
Coconut
Imperial Stout – 8,0% ABV 45 IBU
Join our Dark Humor Club, where life is fun and jokes are dark! When life gives you delicatessen of our DHC series is this deep coconuts, you put on Hawaii shirt and bite into this Imperial Coconut Stout!
Another delicatessen of our DHC series is this deep dark and sweet stout. Pair with a rich chocolate cake, hard cheese and try with curry!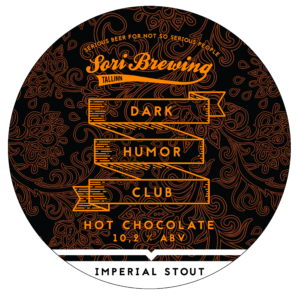 Dark Humor Club
Hot Chocolate
Imperial Stout – 10,2% ABV 42 IBU
Dark Humor Club's strongest and darkest beer is Hot Chocolate. A complex, rich flavored chocolate Imperial Stout. Brewed slow and carefully to get the every bit of that complex flavor. Matured on a massive amount of cocoa nibs where it gets it dark chocolate flavor and aroma. Full bodied Imperial Stout to warm even the coldest nights.
Pair this beer with roasted meats or even better, with chocolate and coffee desserts.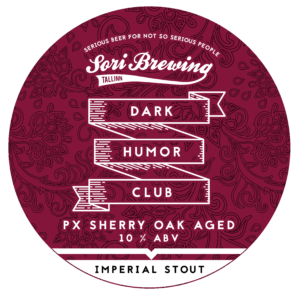 Dark Humor Club
PX Sherry Oak Aged
Imperial Stout – 10% ABV 50 IBU
Dark Humor Club is a series of big and playful Imperial Stouts. This DHC is matured on Pedro Ximénez Sherry oak for decadent and warming chocolate aromas accompanied with ripe cherries.
Pair this beer with desserts with cherries, lingonberries or cranberries.
Serious Gorillas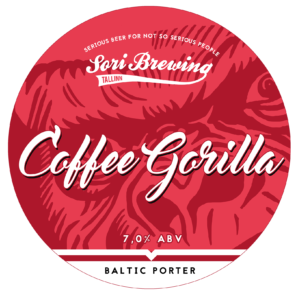 Coffee Gorilla
Baltic Porter – 7,0% ABV 45 IBU
A yawn is a silent scream for more coffee. You face Coffee Gorilla every morning in the mirror before your first cup. Now it's possible to drink beer and coffee at the same time. This must be the future?
Coffee Gorilla is also a great dessert! Brewed with six different malts and smooth espresso. Pair this beer with everything chocolate.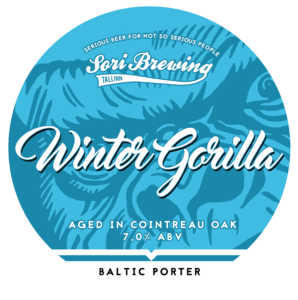 Winter Gorilla
Baltic Porter – 7,0% ABV 40 IBU
The winter is coming! If you don't feel like making snow angels in slush, you can always sit right there and enjoy this amazing Porter. Can you feel it? Winter Gorilla is already warming you from inside! Winter Gorilla only appears in the wintertime.
Porter matured in oak with Cointreau to give this dark treat a slight oaky vanilla and orange twist.
You can also meet this one under the label Christmas Gorilla. Ho ho ho!
Barrel Range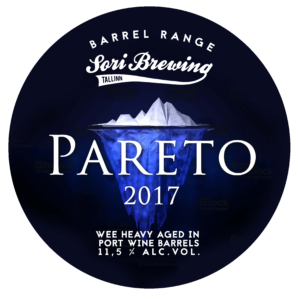 Pareto 2017
Port Wine BA Wee Heavy – 11,5% ABV
Whisky BA Wee Heavy – 12,5% ABV
Pareto (Whisky BA) is a monumental wee heavy aged to perfection in Macallan whisky barrels for 12 months. Dry and delicious. Decadent caramel sweetness is cut with oak and fruity whisky notes. Luscious brew suitable for slow sipping. Also available as Whisky BA version!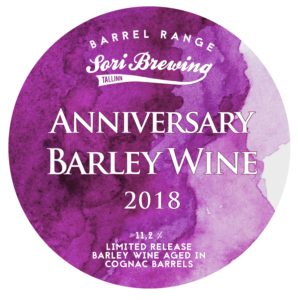 Anniversary 2018
Cognac BA Barley Wine – 11,2% ABV
Special release: A magnificent Barley Wine aged nearly a year in elegant cognac barrels. Rich, dark fruit, honey and caramel notes balanced with oak and cognac from the long barrel aging. Celebrating 3 years of Sori and 100 years of Estonia.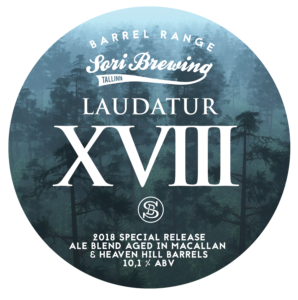 Laudatur XVIII
Whisky BA Ale Blend – 10,1% ABV
Special release. An intense, multi-layered and palatable ale blend; Imperial Stout aged in Heaven Hill Bourbon barrels give us sweet notes of vanilla and oak, while Barley Wine aged in The Macallan barrels showcase notes of ripe berries, toffee and hints of whisky. Aged to perfection and blended by our Barrel Master. Drink now, or cellar for years to come.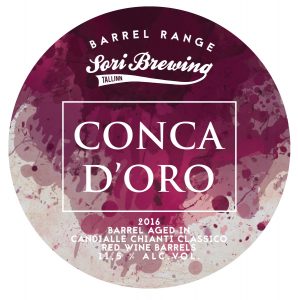 Conca d'Oro
Chianti BA Imperial Stout – 11,5% ABV
Conca d'Oro is a rich Imperial Stout aged in Chianti Classico barrels from the prestigious Tuscany winery, Candialle. Named after Conca d'Oro (Golden Bowl) in Panzano in Chianti, the valley where the vinery is located. This limited edition Imperial Stout is full bodied and velvety smooth with piquant Chianti and vanilla notes from the French oak barrel. [Read more about the collaboration]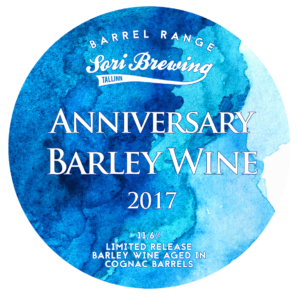 Anniversary 2017
Cognac BA Barley Wine – 11,6% ABV
Special release. A magnificent Barley Wine aged nearly a year in elegant cognac barrels. Rich, dark fruit, honey and caramel notes balanced with oak and cognac from the long barrel aging. Celebrating 2 years of Sori and 100 years of independent Finland.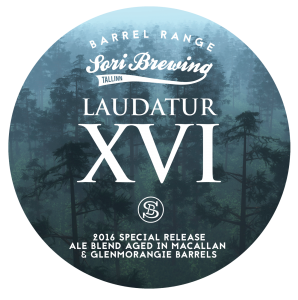 Laudatur XVI
Whisky BA Ale Blend – 11% ABV
Special Ale Blend our barrel master blends annually. This rich and complex Ale blend aged in The Macallan and Glenmorangie whisky barrels. Subtle peat and smokiness, hints of aged oak and mellow Highland whisky tones. Balanced malty sweetness combined with light bittering hops that harmonises the complexity. An unique blend like no other.

More serious brews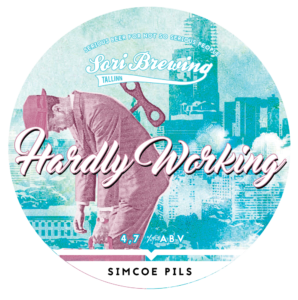 Hardly Working
Pils- 4,7 % ABV 50 IBU
Working hard or hardly working? This is a knowing smile towards a witty colleague turned into a beer. Formal with a balanced bitterness. Hardly Working is a clean, crisp, hoppy lager with bold fruitiness. Refreshing with a good kick of flavor for the low 4,7% ABV. A thirst quencher to turn that late lunch smoothly into an early after work.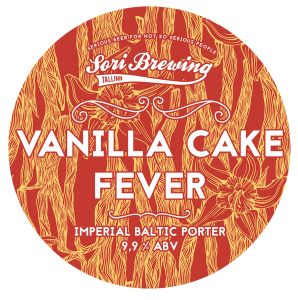 Vanilla Cake Fever
Imperial Baltic Porter – 9,9 % ABV
Vanilla Cake Fever is a massive and full-flavored Imperial Baltic Porter with astonishing dark chocolate and exotic vanilla characters. Again one of those beers where we did not count the hours making this.
This beer is so tremendous that it can be paired with smoky aromas and very creamy cheeses. We would also pair this with desserts like vanilla ice cream, espresso and other coffee flavored desserts.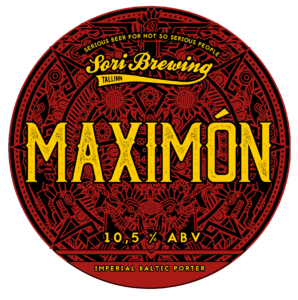 Maximón
Imperial Baltic Porter – 10,5 % ABV
Maximón is a Mayan deity represented in various forms – also as a beer. A complex, moderately spicy, smooth and full-bodied Baltic Porter. There's a hint of fruity chili combined with sweet and rich chocolate notes.
Serious collaborations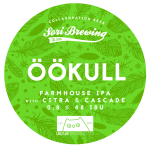 Öökull
Het Uiltje Brewing (NL)
A collaboration brew with our friends from Het Uiltje Brewery. To give you a small language lesson: An Owl = Het Uiltje (in Dutch) = Öökull (in Estonian).
This beer is a Farmhouse IPA fermented with French Saison yeast and dry hopped with American Citra and Cascade. Citrusy hoppy and earthy fruity IPA that is perfect paired with light foods like salads and woks.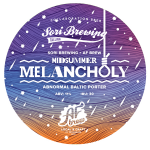 Midsummer Melancholy
AF Brew (RUS)
A collaboration brew with our friends from AF Brew, St. Petersburg, Russia. Imperial Baltic Porter brewed with Kenyan coffee, Bourbon vanilla and smoked malt. People in the north struggle with their emotional roller coaster in the heart of Summer. It is raining cats and dogs anyways, so let's celebrate this melancholy.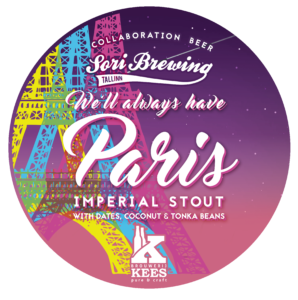 We'll Always
Have Paris
Brouwerij Kees (NL)
The idea to brew this beautiful beer was born in Paris, France in the Summer of 2017. Sori and Kees fell in love with each others beers and that was it. Every good date night ends in a dessert that makes you smile. Ours is a sweet dessert like Imperial Stout that is infused with dates, coconut and tonka beans.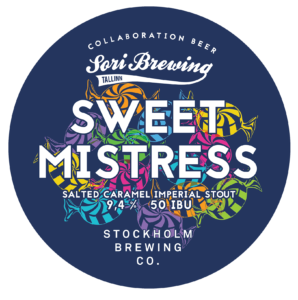 Sweet Mistress
Stockholm Brewing (SWE)
Collaboration beer with our friends from Södermalm, Stockholm. Together we brewed a beer that is both sweet and savoury treat. Pair this chocolaty salted caramel delicacy with vanilla ice cream.
Forever Young
Birrificio Del Ducato (ITA)
Spontan Sahti-style Ale in steroids. From the North we brought seabuckthorn berry and Del Ducato brought in fresh ginger, melissa and maqui berries. Enough antioxidants to make a potion that makes a brewer live forever.
The whole thing was first fermented with a traditional Finnish Sahti yeast strain we brought with us. After that it was given a secondary fermentation with Roeselare yeast (which is a blend of Belgian style ale strain, a sherry strain, two Brettanomyces strains, a Lactobacillus culture, and a Pediococcus culture) to take some edge off.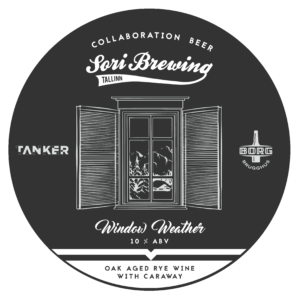 Window Weather
Borg (ISL) Tanker (EST)
Three-way collaboration brew with Borg Brugghús (Iceland) & Tanker (Estonia).
Rye Wine brewed with Finnish rye and Icelandic caraway seeds. Aged in oak to round up this big beer giving it a piquant range of flavors.
Retired brews