Sori Brewing share issue went past 200 000 € and we are preparing for action! That's why we visited our soon-to-be home city, Tallinn. We packed our trolley bags full of beer for tastings, which felt weird – usually the alcohol traffic goes vice versa, from Tallinn to Helsinki. That's also illustrative example how big thing it is to a Finnish brewery to go brew in Estonia.
Calendar was filled with meetings with distributors, restaurants, investors and real estate agents. Although our beloved academic beer society BOSA did their annual excursion in Tallinn, sadly we didn't have any time to join them. Luckily the time between meetings left us some time to enjoy the beautiful Tallinn and it's new bars and restaurants. Except for Heikki, he pulled the short straw and had to drive.
Introducing Sori Brews in Estonia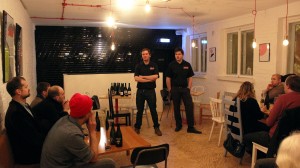 We got to introduce ourselves to Estonian craft beer fans and what could be a better place than the famous Pudel Baar in Telliskivi area. In Pudel, you can attend to events held by cool brewers like To Øl, BrewDog or Pohjala. Now you can add us to that list. So much fun! We have spent three months promoting Sori share issue and Finns like to talk more about money than business, ideas or beer. This time we had plenty of time to talk about the thing that matters – great craft beer and the culture itself.
We were also invited to visit a major Baltic distributor to introduce ourselves and our products. This was exciting, since there have been only limited batches of our beers available, and yet we get this opportunity. We got to talk more about our brand and our business plan, which was also nice. These are the things that really makes craft beer business.
How about an old soda factory?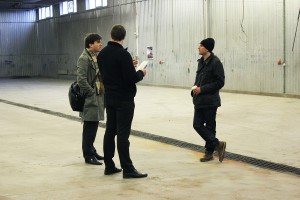 Like it was said, we had plenty of time for visiting possible brewery sites. Estonian real estate business can be pretty interesting. For example, it's possible that multiple real estate agencies have the same property on their list and they compete who is the first one to show it. We have done some research and tried to choose the reliable ones. Property prices are great here and most of the possible properties rents were priced around 2-5 €/m². Compared to Finland, prices start from 10 €/m² and up.
We found some very interesting places! Coolest ones were old soda factories, which had all we needed: good electric supply, great accessibility and quality water from an own 130m deep well. Tap water is otherwise good in Tallinn, but the pipes can be rusty, so we would have to filter the metal particles off. Even the old Coca Cola factory was offered to us, because they decided to move to Lithuania or something like that.
Why Estonia?
People in Finland love to ask this question. The more we spend time in Tallinn, the more we like it. Small country like Estonia is evolving fast and it has a great business culture overall. It's a small country and has many similarities to Finland, but it's still a very different country. Prices are reasonable, since taxation and overall inflation is very competitive compared to Finland. And unlike Finland, it's retail market is not dominated by monopoly or oligopoly. We will be living practically on a student budget for a quite some time, why it's good that you can afford food and living.
Estonian people are very polite and many speak good English. Because Finland and Estonia have a lot of history together, many older citizens know pretty good Finnish. Although, we have already began our Estonian studies. We think it's essential to show some respect and learn the  language. One thing we love about Estonians, is that they rarely use phrases like "can't be done" or "we can't help you with that". We Finns do, too often.
By the way, did you know that Tallinn is only 84 km away from Helsinki? Yeah, Tallinn is closer to Helsinki than Lahti or Turku, so it's very easy to visit Finland when ever you feel like it.
Media attention
If you didn't know, Estonian media and especially financial newspapers covered Sori Brewing plans well. They even went to ask the biggest Estonian brewers Saku and A Le Coq about how they feel about those, which was adorable. Spoiler: they weren't so afraid. Here are the news in Estonian, you may need some Google Translate like we did.