Our first batch of Investor IPA will be ready soon. Therefore, we would like to open up a bit and tell you why we love the beer style  so much.
IPA or India Pale Ale is the trendiest beer style right now. Everyone must have an IPA in their product range. Even the bulky mega-breweries are thinking of producing IPAs because sales are skyrocketing in the US (up to 36 % in the first half of 2013). GuestMetrics find IPA as the fastest-growing beer category of 2012 and it's still going strong. Here's our introduction to IPA and how to make it great.
History of IPA
[pullquote align="right"]There have been a lot of debate and blog posts about the history of IPA. [/pullquote]The common story behind IPA is that it was developed in the UK for soldiers and emigrants in India in the 1800's. Regular Pale Ale couldn't survive the long and warm sea-trip from Europe to India. Instead, they made a new beer a bit stronger and added more hops.  The higher alcohol content and the hops acted as a preservative during the long journey.
There have been a lot of debate and blog posts about the history of IPA. Especially by people who have too much free time – and the British guys. I don't know if you can ever find out the real story behind the style and what was it like originally. Some say, that Samuel Smith's IPA is currently the closest to the original style, but who knows what's the real story. All we know, it's still a style that is going strong.
What is IPA now? 
These days you can find IPAs almost everywhere. Even the most traditional beer consumers, the Germans, are producing some fantastic IPAs. The current trend started from the USA and has gradually taken over the western craft beer world.
We think that all the good qualities in craft beer culminate in the best IPAs. It's refreshing, you can have many different layers of taste and you can max it to the extreme.  It also requires expertise and craftsmanship from the brewer to make IPA work.
Here in Europe, BrewDog's Punk IPA is probably one of the most consumed modern IPA's. Right after, there are the American uncles such as Alesmith IPA, Ballast Point Sculpin IPA, Sierra Nevada Torpedo and so on. They all are very refreshing but at the same time there are many interesting flavors and taste layers.
The secret of a great IPA
[pullquote align="right"]Brewers: know your microbiology, the secret for a greatness lies within.[/pullquote]So, how to make a perfect IPA? We have experimented quite a lot with IPAs during years. There are many things that affect the end result, not just hops. For a brewer, it is always a challenge, since there are so many moving parts in the play. Here we open up, what makes an IPA so great.
Malt base is probably the most crucial part to make a great IPA. Especially – how to get the right mouth feel, texture and appearance for the beer.  Most European IPAs seemed to differ with the Americans and we wanted to find out why. Here in Finland, a common IPA is pretty dark brown and malty. We are not very into that, but right now we are close to where we want it to be with our Investor IPA – clear petrol color and great mouth feel.
Hops, hops and hops. There seem to be some trendy hop varieties currently and some are always popular. Even though hoppy beers are great, there are still some limits. If you go too crazy, you'll easily get cat piss. Some like to take it to that extreme point, we don't. Delicate hop balance is the key, you just can't max everything.
Yeast and water. Yeast is the soul of a beer. It's a shame, how little some brewers have understanding on their yeast. Some may never control or understand the quality of their yeast, or have in-depth understanding of the yeast processes. The base of all, the water chemistry, seems to be even a bigger black box for brewers. Brewers: know your microbiology, the secret for a greatness lies within.
In our opinion, water chemistry is the number one key to great IPA. You can make good one without understanding your water – but in making of an excellent IPA, you need to be a pro.
Sori Investor IPA
[pullquote]2,5 kg of hops in 300 liters of fresh and pure water with great malt base makes this one a beast.[/pullquote]It has been a struggle to find free capacity in Finnish breweries. On the other hand it's great to see that business is blooming and Finnish breweries are doing great. However, we were finally able to find one and made a small batch of our Investor IPA in
Kuninkaankartano Brewery
.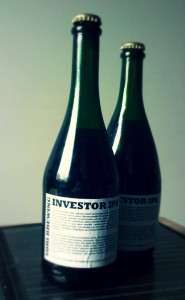 The West Coast -style Investor IPA itself has very much crisp citrus and tropical aroma. It has 7.2% ABV, about 78 theoretical IBUs and it has a ton of aroma from dry hops. We made it with a San Diego yeast strain, using hops like Magnum, Simcoe, Amarillo, Cascade and Centennial and four different kinds of malts. And of course, we made sure that the water was perfect.
This is a tribute for all the inspirational beers that we have had over the years when planning our brewery. It's the kind of beer that we love and enjoy, but it's rarely made by Europeans. Over the years we have made quite a few test batches with this recipe and we've let beer-heads to taste it – and they love it. Hopefully, the new batch from Kuninkaankartano is even better, since we tuned a bit our recipe to make it even more aromatic. 2,5 kg of hops in 300 liters of fresh and pure water with great malt base makes this one a beast.
What makes our IPA different? Investor IPA is the whole idea of our brewery put into a beer. It is a beer without compromises. It's playful, refreshing, easily drinkable but not boring. It's full of questions like: Do you like this? Do you feel the craftsmanship behind it? Would you like some more? Is this what you value in craft beer? Does this support your values and taste preferences?
If most of the points are yes, then maybe you should check out our investor page. In other words, this beer's purpose is to say: We know our stuff. We have the skills and the passion. Do you want to join the ride and be part of a great journey?
This test batch will be currently made available in Finland (in mid-December) only. But, there are more to come!
What Twitter-people are saying about Sori Investor IPA?
Enjoying Finnish summer with friends and @SoriBrewing Investor IPA and other #craftbeer. Quite good for a test batch, can't wait to try more

— Matias (@mkainul) July 5, 2013
Read more about IPA
IPABeer.com – IPA 101
CNBC – IPA Nation: How this ale became craft beer's most popular style
Total Wine & More: Guide to English IPA
Total Wine & More: Guide to American IPA