Starting brewing is just around the corner
We have worked 24/7 to get the license for food production (required here in Estonia). We got it, and now it's just the ongoing process of excise warehouse. You might think that agile country like Estonia had less bureucratic paperwork, but since the laws are pretty new here, there are these kind of things left there. Let's hope it helps that we have done our homework. Already got feedback from the tax office and they said that our paperwork looked very good overall and we get soon the rest of the comments. Exciting!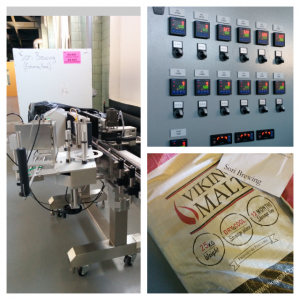 Our warehouse is soon full of raw materials. We got malts from Finland, hops from US and bottles from the Netherlands. We were lucky to get the majority of hops we wanted and the amounts we needed. You can expect awesome IPA's and other greatness.
Also our Meheen bottling line with inline labeler arrived. Can't wait to see that in action. Now it's just minor stuff to get done before we are ready for production. Happy that we got everything together.
Visiting brewery
We are currently building our bigger tasting room (for 50+ people) in the brewery. We will start brewery tours when we have first batches out, most likely somewhere before June. We'll see what kind of concept we have there, but our aim is to offer weekly tours at the brewery along with group visits.
It's easy to visit our brewery. You can arrive by bus, car or even by plane. Yes, you read it right. We are just next to airport, so it's just 15 minute walk from Tallinn Airport. Our address is Suur-Sõjamäe tn 14 and that is near to Ülemiste Keskus shopping center. Leave your significant other there and come see how the brewing magic is done.

Personnel news
We had our recruiting open just recently and we got over 120 applicants. Many good ones made it a tough decision, but we think we found the right people for us. Now we have two new people starting in brewing and one person to be our office goddess. Very talented people with full of energy, so we get a nice kickstart. These people seem to be a perfect fit for our team, so we are already excited to get in action.
We also got some changes in management, since Samu moved forward to pursue for new challenges. We were lucky to have Samu and it was a good ride, thank you for that! Heikki and our new experienced brewer takes over the production. Talented guys full of ideas, so now is the time to get thrilled!
At the same time we are keeping our eyes and ears open for having international skills to join us, growing brewery needs out-of-the box thinkers and hard workers. Also, our plan is to grow our Board of Directors in the year 2015. More information you get by e-mail, patrik@soribrewing.com.
With new personnel we will start our brewing some day soon, now it's tax office's move. We can almost feel the Spring here and that makes people thirsty and connoisseurs anxious to find new brews. We will be there for you!