The *BEEP* brewery bar – BD57
We got to start our trip by getting familiar with Norwegian alcohol laws, which are pretty much as crazy as in Finland. In this case, BrewDog Grünerløkka bar is obviously not allowed to be called with brewery name, since that would make all literate people alcoholics. Instead, it's called BD57. Sadly something very similar that could happen in Finland.
Well, glad they still invited us over for a Sori Tap Takeover.  On tap they had: Passion Punch, Lacuna, Delirious, Hardly Working, Coffee Gorilla, Investor IPA, Madonna of Sori and Dog Sled Fuel.
Sori at Haand Ølfestival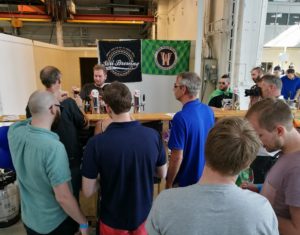 Thanking our friends from Haandbryggeriet for the invite to Haand Olfestival 2017, it was a blast. The event took place at the brewery in beautiful Drammen, which is also home for the oldest Norwegian brewery in operation, Aass (yes, we smiled as well). We were thrilled to see how amazing response we got. After the organizer, we gained poured the most beer at the festival, which makes us humbled. Happy to pour alongside with many breweries we look up to and meet plenty of new faces.
On the festival we were pouring ten Sori beers, including two barrel ages. Our beer list was following: Hardly Working, Raspberry Punch, Investor IPA, Madonna of Sori, Leaping Lena, Dark Humor Club Bourbon Vanilla, Coffee Gorilla, Anniversary Barley Wine 2017 and Laudatur XVI.
Our relationship with Haandbryggeriet is actually quite a coincidence, as the recipe for Sori 'Coffee Gorilla' was many years ago inspired by Haandbryggeriet 'Costa Rica' Porter. So, in a way this was a personal achievement for us.
Bryggeribråk – food pairing & trash talk
We were battling in a Nordic food pairing competition against Haandbryggeriet at Håndverkerstuene in Oslo. Both teams paired three courses by talented Arnar Jakob Guðmundsson with three beers from both breweries.
Starter
Fried uer, emulsion made with mustard and herbs, fresh chervil, roasted oyster mushrooms, fresh radishes
Sori Madonna of Sori vs. Haandbryggeriet Framboose Vintage 2016
Main
Pork belly cooked over night then cut down in portions fried and glazed with ramson blood, fresh ramsons, ramson in pigs blood, pickled and roasted shallot onion, rosett kål in buerre monte with fermented sellerijus
Sori Coffee Gorilla vs. Haandbryggeriet Raspberry Export Stout
Dessert
Potato cake & berries with Sorrell marangue and Nyr foam
Sori Dark Humor Club Coconut vs. Haandbryggeriet Haandkvartett
The result was actually a historical tie, as our dessert pairing split people. Because of this, we went to thrilling recount of all votes and in all votes (almost 300 votes) our Norwegian brothers and sisters took the win at their home arena. We consider that is pretty well in front of their fan audience. Read here details written by Camilla Grøneng (in Norwegian).
[hr]
Sori beers in Norway
If you got interested in Sori Brewing beers in Norway, now they are available. We have currently eight beers available in Vinmonopolet, Norwegian alcohol monopoly store.
Also, if you know a good bar or retailer, our importer is happy to supply them. We are represented in Norway by Naturlig Vin: Falchenberg & Nærlie (Tel. 41434801, E-mail: edward@naturligvin.no).