Sori Brewing was started in the beginning of 2014 with a massive crowdfunding campaign. After that the production started and Sori grew fast and reached this point, where it is necessary to invest to meet the growing demand.
By now, we have launched eight different beers and got a warm welcome from the beer loving crowd. We are very thankful to our loyal fans and crowdfunding investors, who have made this success possible. Also big thanks to our current importers and partners, who have been making a great job getting our beers there, where the people are. Now as promised, we are taking it to the next level.
Sori invests and expands markets
Sori beers have been already available in four countries, but we want to introduce our brews to new markets, and be more present in the existing ones. At the same time, we want to offer brewery visitors more, because it seems our brewery has grown to be quite an attraction here in Tallinn.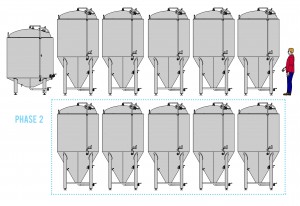 In addition to investing in bigger fermentation capacity (150 hl -> 300 hl), we develop our quality management and production overall. To achieve all this, we are also hiring more talent. We hire people in all sectors, from production to marketing, sales and management.
The plan is to make Sori brewery even more suitable for tours and experiencing the craft beer movement in a brewery. Tallinn has really grown to be an interesting craft beer capital with interesting quality craft breweries and vivid craft beer scene. The thing is, that Tallinn has only a handful of decent craft beer bars, although more and more regular bars have craft beer available. That's why Sori would like to create an awesome craft beer taproom in Tallinn.
Trusting on crowdfunding on the 2nd round
Crowdfunding can be much more than just raising capital for investment. For us, it has brought together our Advisory Board and other great contacts who can take this brewery to a next level. Opening our plans to public brought us lots of great feedback, and helped to develop our ideas from the beginning. That's why we were able to push limits with our ideas and create more value in this brewery from the beginning.
We open our crowdfunding share issue for the public in 5.10.2015 and it's executed by our Finnish parent company. This time the share issue information is also available in English, so we open this opportunity to a broader public. The initial goal is to raise a little over 1 m€ to fund all the necessary investments.
Next share issue will be open on this website from 5.10.2015 mid day, 12:00 (GMT+3).
Brewery born with a record high crowdfunding campaign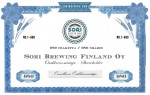 Sori was started with a record-breaking crowdfunding campaign. After this, we received a lot of attention and people interested, who missed their opportunity. This is the second chance for all of you who missed the first round. With the first crowdfunding Sori Brewing raised 453 200 euros to start the brewery.