We were invited by a Finnish blogger Reittausblogi to reveal one of our recipes and bring it open for public. This is actually one of those things we have been thinking of doing from the beginning every now and then. Stone Brewing released, for example, their Stone Pale Ale recipe, which was their very first brew. We release now our Dark Humor Club recipe, which is one of our very latest brews.
This is a full recipe for the full 30hl batch we brew. You can scale it down in order to make a homebrew from it. If you come up with a nice one, you can contact us and send some samples, would love to try it.
Specs
OG 1.090
FG 1.028
Malt Profile
Pale Ale 73%
Cara Pale 5%
Chocolate malt 9%
Cara Munich 1 5%
Crystal 150 4%
Carafa Special type 1 2%
Roasted Barley 1%
Cara Aroma 1%
Mash steps
Boil
Chinook 60 min 35 IBU
Tomahawk 10 min 10 IBU
Chinook 10 min 5 IBU
Yeast
White Labs San Diego Super Yeast WLP090
Fermentation temp 20°C
Other
For 3000 Liters
120 pods of Bourbon Vanilla
20 kg Cacao Nibs
100 L Cold brewed espresso (about 40 kg of beans)
After the fermentation, we cooled the tank to 14°C and dumped the yeast. Into a 3000 liter batch, we added the crazy amount of Bourbon vanilla pods and cacao nibs. Conditioned the beer for two weeks. Then took out the vanilla and nibs, crash cooled the beer to 0°C and conditioned the beer a two weeks more to even up the strong character.  Just before force carbonation and bottling, we added about 100 liters of cold brewed espresso into the Brite tank to be mixed with beer. Lastly, force carbonated to 2.2 vols and bottled with pink labels.
[hr]
About Dark Humor Club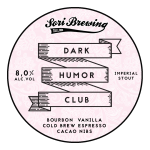 Sweet, dessert-like Imperial Stout with loads of flavor. Cacao nibs and espresso make this a liquid mocha cake. We added over a hundred Bourbon vanilla pods to make it a delicious treat.
Dark Humor Club is fun, super dark and with every sip it reveals something new. Enjoy as a dessert and pair with chocolate.
[hr]