Sori Brewing is a first timer in London Craft Beer Festival 13.-16.8.2015 and we are really showing it off! We are honored to showcase our beers along with the worlds' most inspiring breweries. You'll find our stand from the Pickle Factory.
From the festival you find breweries like Stone Brewing, BrewDog, The Kernel, Omnipollo, Buxton, Partizan, Edge Brewing, Wild Beer, Magic Rock Brewing, Beavertown, Lervig, Burning Sky, Pressure Drop, Howling Hops, Redemption, Wiper and True, Founders, Signature Brew, Camden Town, Weird Beard, Thornbridge, Brew By Numbers, Oakham Ales and some others!
We will bring a massive set of beers to the event. Also introducing our Dark Humor Club and Havana Gose to the public for the very first time! You can get your tickets here.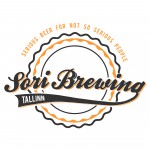 Thursday Session (18:00 – 23:00)
Havana Gose Raspberry
Gose 4,6 %
Investor IPA
West Coast IPA 6,9 %
Friday Session 1 (12:00 – 17:00)
Dark Humor Club Coconut
Imperial Stout 8,0 %
Madonna of Sori
Session IPA 5,3 %
Friday Session 2 (19:00 – 00:00)
Havana Gose Blueberry
Gose 4,6 %
Out of Office Session IPA
Session IPA 4,5 %
Saturday Session 1 (12:00 – 17:00)
Out of Office Session IPA Mango
Session IPA 4,5 %
Dark Humor Club Bourbon Vanilla
Imperial Stout 8,0 %
Saturday Session 2 (19:00 – 00:00)
Havana Gose
Gose 4,6 %
Madonna of Sori
Session IPA 5,3 %
Sunday Session (13:00 – 20:00)
Investor IPA
West Coast IPA 6,9 %
Coffee Gorilla Baltic Porter
Baltic Porter 7,0 %