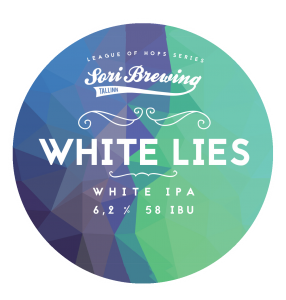 League of Hops rantautuu rajallisena eränä ympäri Suomen. Saatavilla on kaikkia neljää tuotetta, joista White Lies yksinoikeudella HOK-Elannon kuukauden oluena.
White Lies löytyy ainakin seuraavista HOK:in Oluthuoneista: Amsterdam, Angleterre, Kaisla, Kitty's Public House, Kuikka, Oluthuone Joutsen, Poseidon, Rotterdam, Sailor's, William K. Annankatu, William K. Kurvi, William K. Mannerheimintie, William K. Sello, William K. Tennispalatsi, Ølhus Helsinki, Ølhus København, Ølhus Oslo, Ølhus Stockholm
Muuten League of Hops rantautuu ainakin seuraaviin kohteisiin. Ravintolasta riippuen, voivat ilmaantua hanaan eri aikoihin.
Helsinki: Villi Wäinö, Bier Bier, Brewdog Helsinki, Viisi Penniä, Olutravintola Solmu
Hämeenlinna: Birger
Joensuu: 60's Palaver
Jyväskylä: Vihreä Haltijatar
Kuopio: Malja
Lappeenranta: Birra
Oulu: Leskinen
Tampere: Tuulensuu, Nordic, Konttori, Artturi
Turku: Cosmic Comic Cafe
[hr]
League of Hops
White Lies – White IPA 6,2 % ABV 58 IBU
Leaping Lena – India Pale Lager 6,3% ABV 70 IBU
Delirious – Double IPA 8,1% ABV 87 IBU
Ménage à Trois – Triple IPA 9,2 % ABV 93 IBU
[hr]
Briefly in English: Sori Brewing League of Hops is available in restaurants previously listed. White Lies is exclusively available only in HOK Oluthuone restaurants.
[hr]
P.S. Muistathan Sorin tuotteet myös Alkossa. Lue lisää tästä.