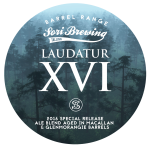 Special release. This rich and complex Ale blend is aged in The Macallan and Glenmorangie whisky barrels. Bringing you subtle peat and smokiness, hints of aged oak and mellow Highland whisky tones. Balanced malty sweetness combined with light bittering hops that harmonises the complexity. An unique blend like no other.
Our barrel master selected the best barrels from our whisky range to create this complex and multilayered ale blend. Laudatur blend is created annually to showcase our skills in barrel aging and blending. A total of four different type of barrels: Barley Wine in Macallan and Glenmorangie, Imperial Stout in Macallan and Glenmorangie. 85% of Barley Wine 15% Imperial Stout. Would be impossible to make another one, so enjoy while it lasts.
Sori Brewing barrel cellar currently has around 150 barrels aging and the number is about to double within the year 2017. So far we have launched Laudatur XVI and Conca d'Oro, which is an Imperial Stout aged in Candialle Chianti Classico barrels.