In January, Pyry spent two weeks in Los Angeles and San Diego tasting beers and meeting brewers. Southern California is one of those epicenters where the world craft beer happens. Here he shares some great places to visit when on a beer tour in southern California.
Los Angeles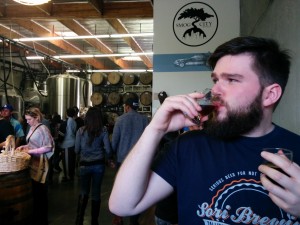 In Los Angeles area, many of the breweries are located in Torrance, near Redondo beach. We got the impression that city ordinances are there a bit easier for a brewery. First we visited Smog City Brewing Co., located in an industrial area in Torrance. Easy to find, since people were flocking around their small taproom. It was a Saturday afternoon and the place was packed. Jason was kind enough to introduce us to their brews. Plain awesomeness. For example, Spittin- & Cussin' was an excellent, complex sour. Growing fast, these guys had it all together.
Just next door, Monkish Brewing is exciting brewery with Belgian style brews. They have huge beautiful wooden foeders and dozens of barrels. Brian gave us a great tour despite being busy with the full bar. A list full of clean and great tasting Belgian style treats, but again one of our favorites happened to be a sour one, Olivia.
Phantom Carriage would have been just next door, but too bad we were on a schedule to take off to San Diego before the traffic. Easy to see why people are crazy about these places. Both of them we visited had very straight forward welcoming atmosphere, and it feels like being in your best friend's kitchen. Speaking of kitchen, both places had good food from food vans outside.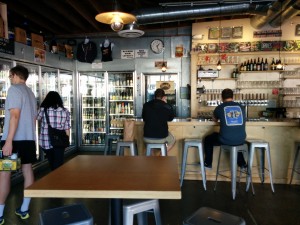 Our last stop on the way was Select Beer Store, a small craft beer store and bar on Redondo beach. Awesome selection of both local beers and some imports as well. We had a chat with the owner Wes while drinking some tasters from tap, and shared some Sori Winter Gorilla we had brought with us.
San Diego
San Diego deserves the title Capital of Craft Beer. The craft beer culture here is beyond anything. There are a couple of different neighborhoods with breweries so you should grab a craft beer map (they have them in San Diego Brewers Guild breweries) and get a designated driver. They also have good brewery tours by bus, so plenty of options there.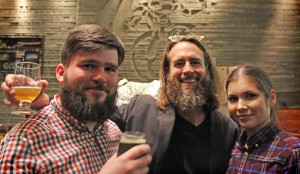 Stone Brewing brewery and World bistro and gardens is a mandatory place to visit. We took a tour and tasted beers at the bistro. Highlight of our evening was meeting Greg Koch, co-founder and a CEO of Stone Brewing. Greg was extremely friendly and welcoming. He had a moment and we talked about Sori Brewing. Got him some Sori beers and he got us some Enjoy By Black IPA. Great to meet such an inspirational brewing business pioneer that has been one of those inspirations for Sori as well.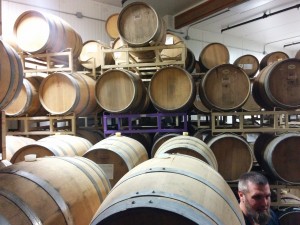 Societe Brewing brews a lot of Belgian style beers, as well as a range of IPAs and darker beers. These guys have a great reputation as one of the classic and solid San Diego craft breweries. Founder Travis and Mike gave us an awesome tour around their barrel room and brewery. While tasting through the taproom list, we had a long talk about brewing, market differences, brewery apparel…
Mira Mesa
In San Diego, there are a couple of brewing hubs, with dozens of breweries. Mira Mesa is one, for example AleSmith, Green Flash, Ballast Point, Port Brewing and White Labs are all there, with many others. AleSmith had recently opened a brand new brewery and tasting room in the area, close to the old one that they sold to Mikkeller. We were glad to find some special releases in their taproom and enjoyed our beers to the fullest. The best beer of the visit was Reforged, which is actually a barrel aged blend of three beers.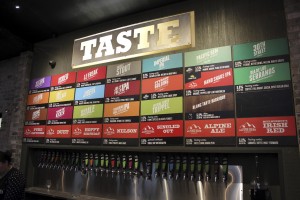 Green Flash is one of the breweries in Mira Mesa as well. They also serve Alpine beers in their taproom, a cult brewery which they acquired  some time ago. They have a huge tasting room with a lot of taps right next to the brewery. Like Stone and AleSmith, Green Flash also had a shop for all kinds of beer-y branded merchandise.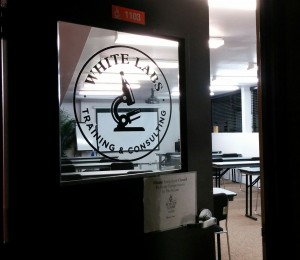 White Labs is the most known yeast supplier for breweries in United States and abroad. They have a small brewery to grow and test yeasts in brews. In their taproom it's possible to try beers made with different yeasts to compare the effect it has on beer. Most of the Sori Brewing yeasts come from White Labs, so it was nice to see where the magic happens.
North Park and Little Italy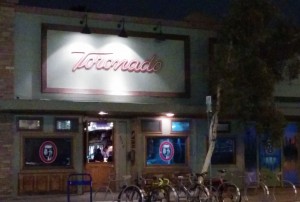 First nights in San Diego we stayed in North Park, which is a neighborhood just north from Balboa Park. 30th street is the heart of the place, lined up with restaurants, bars and breweries. The atmosphere is cozy and local. Modern Times' famous Flavordome is located on the 30th street as well. We tried some brett IPAs and admired the indurstrial/hipster interior design. Walking towards El Cajon Blvd we came to Toronado, which is a legendary craft beer bar in the middle of North Park. On the night of our visit, they for example had Pliny the Elder on tap. They also had a weekday offer of all local pints $4. Pretty amazing. Had to drink several beers there.
In North Park we had plans to visit Tiger Tiger craft beer bar and Fall Brewing brewery, but in the end we were too short on time. Gotta leave something waiting for the next visit, right? We did manage to grab some donuts from Nomad donuts, which is located right next to Fall Brewing. They have wild flavors such as Pistachio Custard Lemon Thyme Pumpkin Whiskey Candied Pecan. We concluded that we could have stayed in North Park for the whole time in San Diego, as the famous Gas Lamp district felt really touristy and boring compared to this lively neighborhood.
Besides the brewery in Mira Mesa, Ballast Point also has a tasting room and kitchen closer to downtown. It is located in Little Italy, on Indian street which is busy with Italian restaurants and bars. They had a huge selection of tap beers, both regular and special releases. This place managed to be a tasting room and a great corner bar at the same time. Pyry's beard got some love and admiration from another customer at the counter; overall beards seemed to be industry standard in San Diego, too. We also noticed that Ballast Point's Sculpin IPA was on tap pretty much in every restaurant and bar.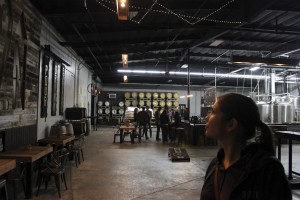 Later, we paid quick visits also to Pizza Port Brewing (Ocean Beach), Ale Project and 32 North Brewing Co.
It was interesting to see how there it was possible and pretty much a standard to have the taproom in the same space with the brewery, often only separated by a chain to keep customer on the taproom side. A lot of the places we visited were full of people enjoying good beer, regardless of the date and time.