What is Gose?
Gose (pronounced go-zah) beer style origins from Goslar, Germany. It's claimed that the style is over 1000-year-old, however first mentions referring to Gose ages to the 15th century. Before that, it was most probably known with different names, like Goslar Beer which documented history ages to the 13th century.
Sadly, the beer style that almost disappeared. First it was revived in Leipzig in the 18th century, but now this sour and salty wheat ale has really made a comeback! Being currently one of the most popular rising beer styles, it is conquering the US market, like the other sour beers.
Gose was originally a spontaneously fermented beer, but of course now it's made with more controlled methods. Being a wheat beer, Gose was brewed with at least 50 % wheat malt. One other essential thing is that Gose is a salty beer. Yes, you read it right, salty. Gose River was salty and the water used to brew this beer, was from that river. And before you judge, salty beer is actually awesome! It adds mouthfeel and brings up flavors that would normally be left behind.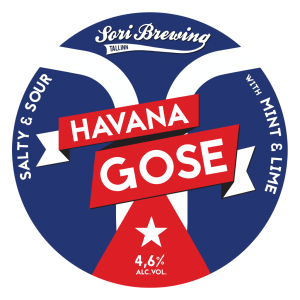 About Havana Gose
Havana Gose is our sour rebel, inspired by the Mojito drink and the warm beaches of Cuba. Super refreshing, super sour & super salty. You can only use superlatives when talking about this beer. Very delicate, yet complex and sessionable ale (only 4,6 % alc.vol.) for any occasion. And most importantly, this beer is fun and surprising. It's not like any other beer you have ever tasted.
In the boil we seasoned this with Himalayan rock salt to mimic the mountain minerals the original has and to add something of our own, we have loads of lime peel. To top it off, we added some fresh mint in the fermenter for about 36 hours.