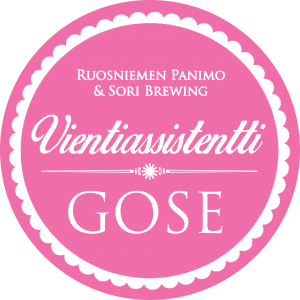 We continue our cooperation with a Finnish craft brewery, Ruosniemen Panimo. We have bought our own fermentation tank there, so we can be more agile in doing collaborations and some of our own beers. This time we brewed a special collaboration for Finnish craft beer festival (Suuret Oluet – Pienet Panimot) in Tampere. Vientiassistentti (Exports Assistant) Gose is seasoned with coriander and pink salt. It's first appearance will be in Tampere SOPP festival this weekend. Like always, it was fun to brew with like-minded fellows and there will be more.
Gose is 1000 year old beer style, which is pretty sour and salty ale. It's brewed originally with 50% wheat malt and 50% Pils-malt and fermented with wheat beer yeast and lactobacilus. Originally spiced with hops and coriander. Unlike other beer styles, Gose was brewed using salty water. It's very probable that the saltiness was because the Gose-river, which flowed through Gozlar, had a very high mineral concentration and breweries probably used that water to brew this beer. P.S. Some say that the minerals of Gose are good for preventing hangovers. We are not yet sure on that.
Available from 28.5. in Helsinki (Black Door, Villi Wäinö, Kaski) and Tampere (Gastropub Tuulensuu, Gastropub Nordic, Kultainen Apina).